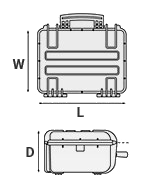 Based on Peli case sizes, below is a list of nearest Explorer alternatives.
Every year thousands of Explorer Cases are chosen to protect and carry sensitive and expensive equipment all over the world. Made from Explorer's innovative Copolymer Polypropylene compound, offering safe transportation for electronic equipment, precision instrumentation and sensitive equipment. Explorer Case can withstand the harshest conditions and is certified to resist temperatures from -33 to +90°C.
Explorer Cases are exclusively designed and manufactured in Italy, Europe.